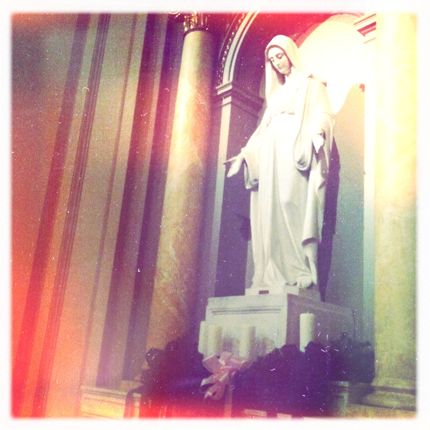 Two years ago, this holiday memory submitted by Laurie, a regular contributor to Five More Minutes With Web site was the winner of our first-ever Holiday Memory Contest!
Her first story for us, A Whiff of Perfume, documented the ineffable memories she had when she smelled her mother's perfume.
The House on Sylvan Lane chronicled her happy childhood in a very special home.
In The Green Tartan Night Gown, she again weaves a compelling portrait of family life as she was growing up. As with her two previous stories, I can't read it without shedding a bucket full of tears.
***
Everyone has his own way of celebrating Christmas. In our house, these "family traditions" had to be adhered to year after year. My mother was the producer of Christmas and the keeper of the rules.
On Christmas morning, we took coffee or hot chocholate and a special Christmas Danish to the fireplace to open our stocking gifts. These "treasures" were anything from candy and cosmetics to kitchen gadgets and school supplies that we wrapped in red or green tissue paper. We took turns unwrapping them one at a time.
In an attempt to make the day last as long as it possible, we took a break to get the turkey in the oven, dress up for the day, and slowly gather around the Christmas tree for the gift exchange. Dad was Santa and passed around the colorfully wrapped presents. We watched as each opened a gift and, made appropriate oohs and aahs.
Selecting, wrapping and giving gifts was very important to my mom. Christmas wasn't Christmas unless you had packages under the tree with your name on the gift tag.
As time went by, the mantle passed to me. I became the producer of Christmas in my home, but my mom still was the enforcer of the traditions. On this particular Christmas, we all had to bend the rules to accommodate my mom's treatment for ovarian cancer.
I now lived in Florida where my parents spent their winters, so we were able to arrange for mom to come as usual and continue with chemo. She was so weak when she got off the plane. I got them settled in their condo about five minutes from my home, bought a miniature live Christmas tree, and tried to make it as festive as possible.
To make it easier on mom, I set up the stockings turning their kitchen bar into "the fireplace mantel". On Christmas morning, I drove to their condo for coffee and Danish and the familiar stocking gift ritual which my dad and I kept alive.
Later in the day, a very frail mom wearing her crooked wig came to my house to finish the Christmas traditions around my tree. The gifts were there, but this year's pile wasn't as big and I expected nothing from my mom except the gift of her being with us that day.
This time, I was Santa. She directed me to a package with my name on it in her handwriting beautifully wrapped. I opened the box and pulled out a full length flannel night gown in a green tartan pattern.
What made the gift so special is that my mom made my dad drive her to the mall so that she personally could pick out the gift — something to keep me warm since she knows I always get cold. The tears came down my cheeks as I tried to hide them behind the warm comfy night gown which reminded me of my mother's love and the importance of celebrating Christmas her way.
That was our last Christmas, but the gown comforted me and brought back warm memories of a lifetime of Christmases with my mom. They are never the same without her.