One of the main premises of the Five More Minutes With website is submissions from readers.
So I think the writer's exercise below, originally published last year, bears repeating.
Please feel free to send me your stories for possible publication!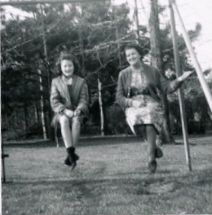 Family friend Mabel Milson and me on the swing set at my childhood home. 
Many of you have told me what a wonderful idea you think Five More Minutes With is, but you are shy about writing for the site because you're not a professional writer, or because you simply don't have the time.
Today I'm asking for just five minutes of your day to complete a simple writing exercise. Writing exercises are a trick that professional writers use if they're feeling stuck on a project or idea. By forcing yourself to write about a topic, it often starts the creative juices churning and leads directly into writing "flow," one of the greatest feelings known to man.
Begin this five-minute writing exercise by finding a comfortable spot to write and getting out your yellow legal pad, iPad, or computer. At the top of your preferred writing device, write the following question: What would you say to a departed loved one, or a person or pet no longer in your life, if you had five more minutes to spend with them?
Next, set your kitchen timer or cellular phone alarm for five minutes from now.
Now ready, set, go. . .read over the question and start writing. . .
Write off the cuff and straight from your heart, and don't be critical or try to self-edit. . .this should be like a conversation between you and the person or pet you're writing to.
Let your subconscious work its magic. There's just something very conducive about being under the gun and knowing you have just five minutes to write a piece that eggs on the mind, helping you to write quickly and well.
If your thoughts are flowing, set the timer for another two or three minutes and continue writing.
Now take a minute or two and reread what you've written. I hope you will be surprised and pleased with what you came up with, and more than likely you've produced a story ready for publication on the Five More Minutes With Web site.
If you're comfortable, please follow the link above and post your story, or send it directly to me at editor@fivemoreminuteswith.com.
I'd also love a photo of your loved one, if available, so please feel free to post or send one or two of those along as well.
In upcoming posts, I'll share other writing tips on how to get into "flow," so please stay tuned.
In addition to timed writing exercises, some writers respond well to visual or auditory cues. For example, quite often before I start writing FMMW posts, I turn on two OXO Candelas (smokeless, fireless "candles") and place them on either side of my writing desk, as their warm glow simultaneously sends me into a place of calm and inspires me to think deep thoughts.
Other writers may be inspired by music. If you're one of those, here's the link to a Frank Sinatra tune that goes particularly well with the Five More Minutes zeitgeist.
Here's what I said about that song in a previous post:
"After I received a recent Five More Minutes With Google alert, I followed an interesting-sounding link and discovered a recording of a"Frank Sinatra – Five Minutes More 78 rpm 1946 factory sample" that is simply incredible, the PERFECT song to match this site.
"The first 40 seconds or so aren't nearly as compelling or to the point as the final two minutes, but the entire thing is a nostalgic romp through simpler times and softer days.
"The words go something like this:
"Give me five minutes more, only five minutes more,
"Let me stay, let me stay, in your arms.
"Here am I, begging for, only five minutes more,
"Only five more minutes of your charms. . .
"Give me five minutes more, only five minutes more.
"Let me stay, let me stay, in your arms.
"Awww, come on!"
Today I'm begging for just five minutes of your time in order to produce a story for Five More Minutes With. . .