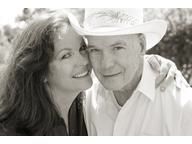 I lost my father almost two years ago to vascular dementia, and this was hard to write.
But if I had five more minutes to spend with him, I would have gone over remembrances of fond events and our special conversations.
Told him of how happy I was to have known him and how much I respected his kindness towards others. He had no enemies.
How thankful I was for his non-judgmental feelings towards me and how I appreciated his belief in me.
That he kept the family neutral since my mother and brother were opposite towards me.
One of his brothers drowned in front of him when he was a child and he lost half of his family by the time he was 25. How brave he was to go through those hard times and keep a smile on his face.
When I was a child, he would sit at my bedside, play guitar and sing me songs. How I miss his voice.
He was truly the only one that understood me. How I feel alone without him.
Just to say how we love each other and that last hug would be music to my ears.
Note: Teresa Turner is a writer and relationship advice blogger in California.