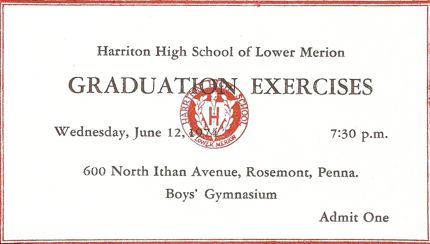 An invitation to my high-school graduation
I've been thinking a lot about reunions lately, my memories sparked by my upcoming 36th high-school reunion, which takes place just outside of Philadelphia on Friday evening.
The reunion was originally scheduled to coincide with our 35th graduation anniversary last year. But so many people were unavailable on the chosen date, the reunion organizers (several dedicated members of my graduating class of 270 who still live in the Philadelphia area) decided to forget 35 and reschedule our 36th for 2010.
Many of these people I had gone to elementary, junior-, and senior-high school with. Our paths had crossed at school, on the playing field, and at extra-curricular events for 12 years.
A handful I've even kept in contact with over all these years.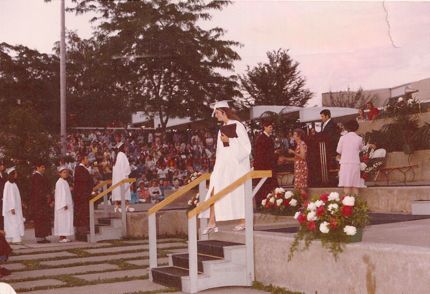 Braiden on her high-school graduation day from Harriton High School in suburban Philadelphia
Sadly, I won't be among the group of approximately 60 happy, 50-something Harriton High School graduates reminiscing about favorite teachers and reveling in long-ago fond memories Friday evening.
Airfare from Seattle is simply too costly; time out of the office is always difficult; travels from the West Coast to the East Coast during this time of the year can be dicey, depending on the weather.
And with the advent of Facebook and other social-networking outlets, I figure if I really want to contact an old elementary-school or junior- or senior-high-school acquaintance, I can locate them on Facebook, view their family photos, poke or "friend" them if they look interesting, and voilà–we can be in contact again.
But as I think of the 70 graduates who'll be reminiscing and reveling on Friday, I can't help but also think about those graduating seniors who are no longer with us.
I remember the summer after we graduated in 1974, one very popular boy from our class wrapped his car around a telephone pole and died instantly. Obviously, he never made it to college.
My very own high-school boyfriend, who went on to college with me, was killed in a road-rage accident while in his second year in law school. And in Salt Lake City, Utah, of all places.
During their reunion planning, the organizers sent out several lists of our fellow high-school grads who were "missing," their contact info lost over the years as their families died off and/or they moved out of the region.
Do you have high-school friends–perhaps even a lost love–who have passed on, or whom you haven't been able to find on Facebook or Twitter?
If so, what would you say if you had five more minutes to spend with them?