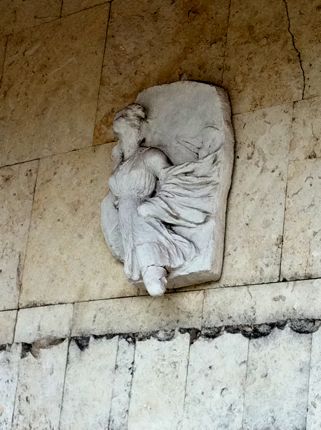 Today our frequent guest columnist, John Paul Carter, an ordained minister who writes for the Weatherford (Texas) Democrat, reflects on how many of us "walk the tightrope" in our daily lives.  Thanks, as always, John Paul!
Tightrope Walking In Real Life
Last Sunday night I was glued to the TV watching Nik Wallenda walk across the Little Colorado River Gorge on a 2-inch-thick steel cable, 1,500 feet above the floor of the Grand Canyon.
He had only a 43 lb., 30 ft. flexible pole for balancing and no harness or safety net to catch him if he fell. Once he began, there was no turning back on a perilous journey in which one miss-step would almost certainly result in his death.
A seventh generation member of the famous "Flying Wallendas" circus family, the 34-year-old braved the wind gusts, fatigue, and fear, only pausing twice to refocus because of the wind and an unsettling rhythm in the cable.
With Nik's family tensely looking on and his father encouraging him, he made the breathtaking quarter-mile walk in slightly less than 23 minutes.
The splendid camera and audio work put his world-wide audience on the wire with him. It reminded me a little bit of how it might have been to watch Peter's perilous walk on the stormy Sea of Galilee. I was a nervous wreck!
Wallenda, who had trained intently for this attempt ever since last year's daring walk above Niagara Falls, prayed audibly almost every step of the way.
His successful crossing was a brave example of the merging of careful preparation and trust in God. The stakes were too high not to both prepare and pray.
Although a death-defying feat like Wallenda's walk on a wire over the Grand Canyon without a safety net is remarkable, it pales in comparison to the dangers we face in our everyday living over a lifetime.
Indeed, life is often like walking a tightrope without a safety harness – a high stakes balancing act. Whether we're keenly aware of our vulnerability or oblivious to the risks involved to ourselves and those around us, we're all real life tightrope walkers.
Even when we diligently prepare ourselves for life's demands and meet its challenges with prayer, we sometimes lose our balance and plummet to the rocks below.
The reasons for our tumbles, great or small, are as varied and complex as life itself – ranging from our own willfulness to those random, unforeseen, violent gusts of wind.
Some of our falls have more lethal consequences than others. Our faith carries no guarantee against harm. What it does promise is that whether we are in green pastures, beside still waters, or walking a tightrope over the valley of the shadow of death, God will be with us, working for good in every circumstance of our lives – even when we fall.
Our faith promises both guidance and support for our journey and restoration when we stumble. As the Psalmist says: "If we fall, we will not stay down, because the Lord will help us up.'' (37:24 TEV)