On a recent trip to La Conner, Washington, we happened upon this statue along the small town's main drag. I was drawn to its elegant lines, the calm look of happiness on the man's face, the way he stared heavenward. So I snapped his photo, not quite sure what I'd end up doing with it.

Then, last Saturday night, during a concert of Seattle's Early Music Guild held at St. James Cathedral, once I saw the beautiful saints spread along the walls, I knew I'd group all the photos and post them here for you.

Even if you aren't religious, these statues somehow speak to you–they are simply so spiritual.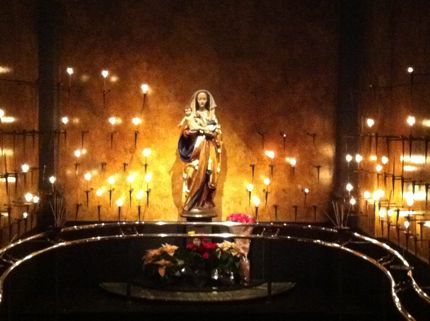 But here's the the one that captured my interest and heart the most. . .the Mother Mary is simply resplendent in her candle-filled coffer. Seems especially appropriate during this holiday season.