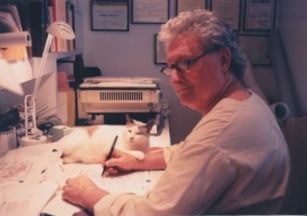 I lost my cat, Bo-Bo, on August 10, 2004 at 4:35 pm.
I think of this cat many times every day, toast to him at dinner or any time I have a drink, and pat his urn at his place on our buffet and wish him well.
If I had five more minutes with Bo-Bo, I would place him on my stomach, hold his head in my hand, and scratch his ears, rubbing the inside and watching his eyes roll back in his head in complete ecstasy, purring, and speaking the language only he and I understood.
I would tell him how much I missed him–and how grateful I was to him for giving me 15 years of true love.