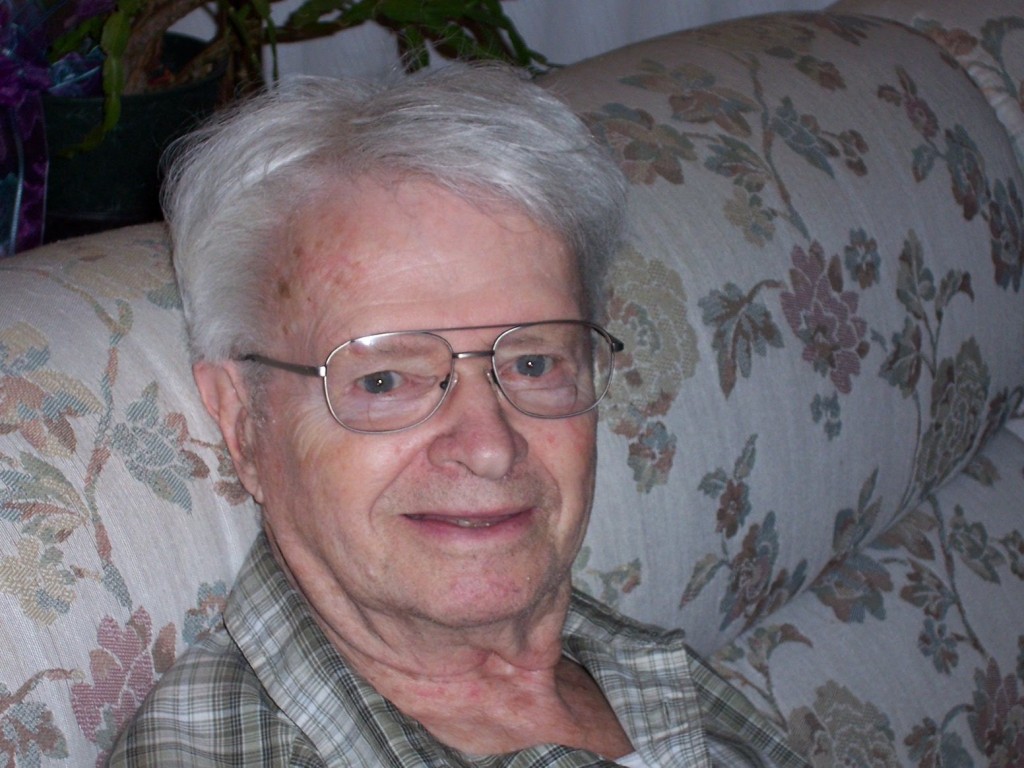 On Monday, April 5, we started running Klaus Citterman's story, which begins with his escape at age 17 from Nazi Germany; continues as he and his parents flee to Shanghai, China; and concludes in Portland, Oregon, where he marries, builds a new life, and raises four children.
The story was written by Klaus's daughter, Teri Citterman Bahm, a public-relations consultant, freelance writer, and award-winning wine writer.
Teri, who chronicled the last six years of her father's life, was kind enough to share portions of her memoir with Five More Minutes With.
Klaus's Story, Part V
One of my most special moments with Dad, and another story I wrote about him, happened in 2005 when he still lived at home.
A Walk With Dad
It's a beautiful brisk day and I walk at a snail's pace with my Dad. We tread side by side down the familiar street where he's lived in the same red, ranch-style house for 43 years–the house where I grew up.
He walks slowly and deliberately with his cane in hand, though he often picks it up as if it's a mere nuisance getting in his way. We speak in broken connections and he wonders why he can't remember things and why he feels scared. He tells me that he feels anxious, like something is always wrong.
We pass a neighbor working in his yard who greets us. I haven't seen Fred since I was a teenager. He must be in his early sixties by now.
Dad recognizes Fred. I can see him working hard to connect the words for a sentence. He tells Fred that his grandson is coming to see him later this afternoon, which is really exciting because Danny is adopted.
It's true that Danny was on his way to my parent's house to pick me up for dinner and my Dad was really looking forward to seeing him. But Danny is not adopted.
In fact, no one in our family is, which is why it was such a funny thing for him to say.
It's funny and tragic all at once.
He has become a kind, calm man, which is contrary to the Dad he's sometimes been. Today he is someone different, with whom I like spending time.
He's funny when he's not trying to be and is simply who he is–uncomplicated.
Dad and I turn around and begin our walk toward home. When he attempts to pretend nothing's wrong, it zaps his energy.
Now, we'll go inside and I'll make him a salami sandwich on rye bread with butter. He'll pour himself a glass of milk and stir in gobs of Hershey's chocolate. He'll eat his sandwich and then fall asleep on the sofa for the rest of the day. I'll have a cup of jasmine tea with my Mom.
In this new person, while some parts of him stay and others go away, there are little things that remain my Dad.
He still goes around the house and turns the lights off, even when you're trying to read. He still likes his privacy, even though dressing has become too complex for him to maneuver alone. He still wants to hold the door open, even though he requires help going through it. He still wants to protect his family.
These are things the things that make up his essence and no matter what I believe-–a soul is authentic.
We continue walking. I am on the left and he on the right.
With a gentle hand, he reaches over and moves me to the inside while he moves to the outside.
"Why did you do that?" I ask.
"Because you could get hit by a car."
While he changed as a character in my book, his character never changed. He made his own luck, and perhaps we learned a little bit of that from him.
How lucky were we were.