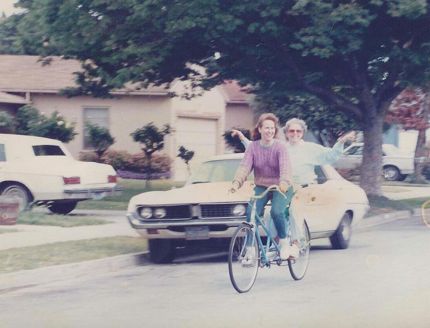 Ann Morgan James and her mother riding a tandem bike when her mother was in her late 70s.
Ann Morgan James, author of  "How to Raise a Millionaire: Six Millionaire Skills You Can Teach Your Kids So They Can Imagine and Live the Life of Their Dreams," shared this story about good times with her mother. 
Thanks, Ann!
First thing I would do is pull out the Scrabble board.
Even if we didn't finish the game, playing a hand or two would be so very special!
Second, I would hold her every second. . .look in her eyes and see her knowing smile and unconditional love which was always there.
Third, I would tell her all my dreams and goals I am trying to accomplish.
I won't weigh down the conversation by hashing over stuff that has happened since she was gone.
I would simply spend ever second soaking up all her positive energy and unflagging belief in me, so I could have it when she was gone again.
One of the hardest things about not having my Mom around has been keeping my chin up without my cheerleader in my corner.
Going through a divorce, reinventing myself at age 50, and dealing with life's blows has been hard at times.
It's those times–when I need someone to have my back and I don't–that miss her the most.
It's those times when I pull on the internal strength she planted in me so I can believe in myself and make my own way.
These are the gifts I am planting in my son.