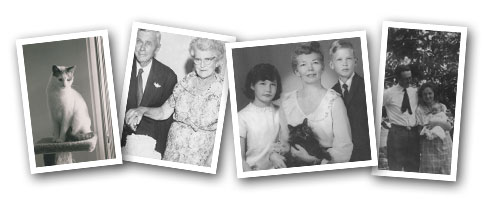 Our Story
The idea for FiveMoreMinutesWith.com came about over a bottle of wine and dinner at Café Campagne, a popular French bistro in Seattle's bustling Pike Place Market. My husband, Spencer, and I were enjoying our meal, but the bottle of Meursault we sipped was making me a bit weepy and maudlin.
As we shared our days and the warm and welcoming ambience of the restaurant, all of a sudden I looked into Spencer's eyes and said, "I would give just about anything to have five more minutes to talk to my mother. . .to tell her she was right about my Dad. . .to ask her why she was a compulsive hidden hoarder. . .and to tell her I love her one last time."
Immediately, Spencer looked at me and said, "And I would give anything to hold Bo-Bo in my arms one last time."
Bo-Bo was our darling part-Siamese/part calico cat with the most beautiful blue crossed eyes. He died in our arms on August 10, 2004, and we have never gotten over it (or gotten another companion animal). Every night when we have our first glass of wine, we clink our glasses two times in memory of Bo-Bo.
My mother died on August 13, 2005, and Spencer's parents died that same year. So for quite some time, death and dying surrounded us.
From 2004 to 2006, Spencer and I were in the middle of traveling around the Northwest while researching and writing my seventh book, Pacific Northwest Wining & Dining. While the book was in production, and after it came out and I was doing publicity for it, I never really had the time or took the time to mourn such significant losses.
So I believe that FiveMoreMinutesWith.com is our attempt to say goodbye. . .to make up amends for. . .to bring closure to the deaths of our family's dearly departed loved ones.
And I hope this inspirational tribute site will provide the same catharsis. . .the same cleansing. . .the same comfort to each and every one of you.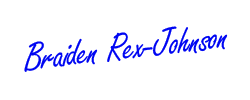 Pictured above from left to right:
Bo-Bo, Braiden and Spencer's cat
Spencer's grandparents, Arthur Colon and Minnie Jane Johnson
Braiden, Julia Looper Rex (Braiden's mother), Brad Rex (Braiden's brother), and Diamond, the family's first of many pet cats.
Harry S. and Inez Looper, Julia Looper Rex's parents, with baby Julie in their arms.