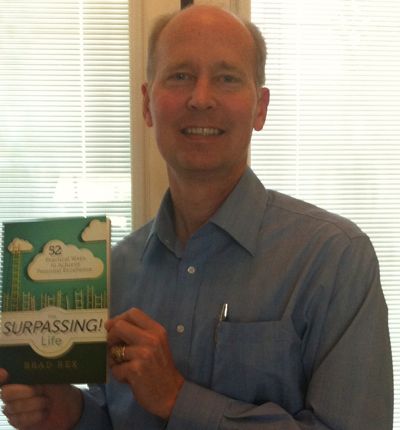 Here is the fourth offering from one of our frequent guest columnists, Brad Rex. Not only is Brad my beloved brother, but he's head of The Brad Rex Group, a consultant, noted public speaker, husband for 30 years, and father of three.
I'm proud to report that Brad's new book, "The Surpassing! Life," was published in May, so is now available for purchase here.
And I'm also honored to be among the first to excerpt parts of "Surpassing!" in the coming months.
Here's his chapter entitled, Playing Favorites, which showcases the idea that every person is important and makes a difference. It speaks to the Five More Minutes With zeitgeist because we should all value and praise the worth of  those around us (especially friends and family members) each and every day. 
Thanks for your wisdom, as always, Brad. And congrats on a job well done with your new book! 
Rejoice in your special talents, and recognize others.
C. S. Lewis
But I also want you to think about how this keeps your significance from getting blown up into self-importance. For no matter how significant you are, it is only because of what you are a part of.
Bible, 1 Corinthians 12: 19
Diversity and inclusion is a significant theme at Disney parks and resorts. The rallying cry used by Disney is R.A.V.E.—Respect, Appreciate and Value Everyone.
I really like this message, as it captures the idea that every person is important and makes a difference.
As you live out the idea of respecting, appreciating, and valuing everyone that you meet, you will develop strong relationships of mutual admiration.
It pains me to watch a person smile and greet a fellow traveler at the airport, but ignore the custodian, as if he was not there. We all have a tendency to judge a person's value and only interact with people who have an equal or greater "value" than us. And some actually demean people who are perceived as having less value.
I wasn't supposed to play favorites as the leader of Epcot. But, I have to admit that I did have a favorite group of Cast Members—the Custodial team. This team was very proud of the work that they did every day, 24 hours a day, 365 days a year, keeping Epcot spotless.
I tried to attend many Custodial pre-shift meetings. When I did, you could hear a buzz around the room that the VP was there. I would often start the meetings by asking the group, "Who is more important—me or you?"
I would go on to say that, if I were gone for a month, very few Epcot Guests would notice. It might impact our longer-range plans and there may be a few small hits, but, overall, the park would keep running well.
However, if the Custodial team was gone for a day, imagine what would happen—trash bins overflowing, restrooms filthy, kitchens unsanitary. So, who is more important?
In 2004, Richard Branson, the billionaire leader of the Virgin companies, had a reality television show entitled The Rebel Billionaire: Branson's Quest for the Best. Through a series of business and physical challenges, Branson eliminated contestants, with the final contestant winning the opportunity to lead one of Branson's companies, Virgin Worldwide.
One episode featured a business presentation that the team had to create and then present to Branson. The team worked on the presentation and was told to go across town by limousine.
One member of the team was the clear leader, and was a favored candidate to win the ultimate prize. When the group arrived at the building exit, the limousine was not there. Finally it arrived. Words were exchanged with the limousine driver, everyone got it, and they arrived at their destination.
Richard Branson was not in the presentation room, and the group was told to present to some of his executives. The favored candidate did a brilliant job presenting and answering questions.
At the end, the door to the conference room opened and Richard Branson walked in, dressed in a chauffeur's uniform.
He stared directly at the favored candidate and told him he would never run one of his companies. The picture then went to video of the interaction with the limousine driver, and showed the candidate berating the chauffeur, who was Richard Branson in disguise, for being late and stupid.
"If this is how you treat someone who is serving you, you will not serve as a leader in the Virgin organization," said Branson. Branson saw that this young leader did not respect, appreciate, and value everyone, and his relationships would suffer because of it.
I used to put on a Custodial costume and walk around Epcot, panning and brooming. It was as if I was invisible. I could talk to Guests, watch how managers interacted with Cast Members, and gauge the service of the operation much better than when people knew the VP was in the park.
And, it sent a clear message to the Cast at Epcot that I believed every job and every person was important.
Are you known as a person who respects, appreciates, and values everyone? If so, you will find people will want to know you and build relationships with you.
On the other hand, if you tend to demean and belittle others, you'll lead a lonely and often bitter life.
The Bible tells us that we should "in humility, consider others better than yourself." If you approach people this way and express genuine interest in them, you can create strong relationships and a wonderful, surpassing life.
Action Points
• Respect, appreciate, and value everyone, especially those who serve you.
• Get "in costume" and do other people's roles, to understand their life.
• Consider others better than yourself.
Payoff
Deeper relationships, greater respect and appreciation of others, a diverse and inclusive work and personal life