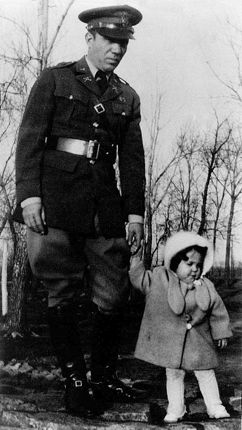 Military-officer Daddy and toddler Jean holding hands
Part 1
Recently I spied a red Prince Albert tobacco can in a cigar showcase and my throat tightened.
Suddenly I was back in high school doing dumb telephone pranks.
"Do you have Prince Albert in cans? You better let him out before he suffocates."
Fifty years later that red can evoked powerful memories of, ". . .if only."
In the 1940s we lived in a big house in Indianapolis, Indiana. I remember sitting on my Daddy's lap in the worn winged-back chair listening to the Motorola radio sputtering out news from the front. We heard Churchill exhorting Londoners to keep up their courage during the Blitz.
Relaxing in the fading light of day, Daddy stirred the ice cubes in his evening bourbon and water with his finger. When my mother wasn't looking, he let me chew the melting ice with its sharp alcohol bite.
The bourbon's companion was either a cigar or pipe. When he smoked his Roi Tan cigar, he would ask me,"You like music?"
I knew what came next but could not resist the game. "Well, here's a band," he'd say as he slipped a paper cigar ring onto my finger.
I can still smell the Prince Albert crimp-cut tobacco as Daddy packed the loose shreds into his pipe bowl.
When we walked together I always hung on to his little finger. From my ground view I saw the highly polished leather riding boots, dove-grey jodhpurs, and a Sam Brown belt with holstered pistol, usual attire for Army officers in pre -World War II days.
The eagle insignia for the rank of Colonel sat on his shoulder epaulets, replaced later with the single silver star for Brigadier General.
Long after his polo and riding days were over, Daddy still carried a riding crop and wore jodhpurs.
Later he carried a cane, not for a physical need but for the Field Marshall Montgomery image.
Clinking ice, pungent pipe tobacco, and polished leather are vivid Daddy sounds and smells.
Part 2
In 1943 Daddy returned to our small French-speaking Louisiana town as a decorated war hero after 25 years of Army service. A parade honored the Cajun country boy who became a general.
I adored my Daddy but there were a few things I had trouble forgiving. He told me stories at bedtime about when he was a little girl, which I believed.
I don't remember when I discovered the truth, but I always wanted to know "why" the little-girl charade? I remember his answer, "Cher, meant no harm. Thought you would like a girl story better. Forgive me?"
I always forgave him, but wondered about the other tales of stolen watermelons floating down the bayou.
Those romantic stories sounded like Huckleberry-Finn adventures. Were those fibs too?
"I knew our Division would soon leave for North Africa. Just wanted to comfort you, hold you before the good-night time."
What about the promise to build a two-story dollhouse with electric lights, miniature furniture, and little family dolls with movable arms and legs?
The memory of his voice is still clear.
"Don't know why I promised you things I knew I couldn't deliver. Maybe I wanted to create reasons to come home to."
Years later when I was all grown up and didn't cry over lost doll houses, I saw rows of colorful campaign ribbons pinned above his left pocket representing medals awarded for gallantry in World War II. Among them were the highly valued Croix de Guerre and the French Legion of Honor.
Although I did not grasp the significance of these honors, I loved to trace my fingers over the campaign ribbons as Daddy told war stories.
Soon the V-mails and Stars and Stripes newspapers were packed away to yellow with time. After graduate school, I fled to the West Coast with others searching for the coffee houses of the Beat Generation.
My phone conversations home were brief – our family did not believe in extravagant long-distance calls. I assumed we would have time for more chats and visits but death took Daddy too soon at only 68 years.
I lost my precious last five minutes.
Part 3
During late-night hours I often replay old memory tapes.
I curl up in Daddy's lap in the wing-back chair and ask again about the watermelons . . . and the dollhouse.
I know we will sit together by the Motorola for eternity, smell the aromatic Prince Albert, and clink ice cubes laced with bourbon.
Editor's Note: This beautifully written story was submitted by Jean Hartley, a polio survivor who serves as coordinator for Disabled Adventures Hawaii, a nonprofit organization that "connects people with limited mobility on-line to accessible activities on the Kona coast of the Big Island of Hawaii." Jean also blogs at Stories About Disability. Thank you so much, Jean!