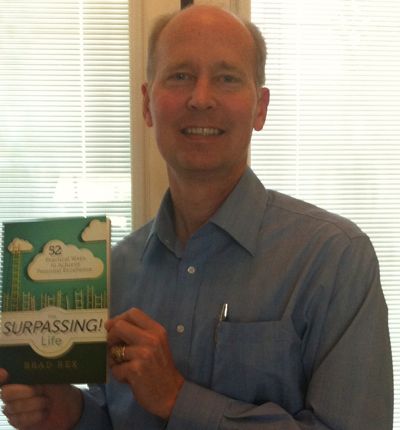 Here is the third offering from our newest guest columnist, Brad Rex. Not only is Brad my beloved brother, but he's head of The Brad Rex Group, a consultant, noted public speaker, husband for 30 years, and father of three.
I'm proud to report that Brad's new book, "The Surpassing! Life," was published on May 15, so is now available for purchase here.
And I'm also honored to be among the first to excerpt parts of "Surpassing!" in the coming months.
Here's his chapter entitled, Windows and Mirrors, which shows us how to accept praise, and give it. It speaks to the Five More Minutes With zeitgeist because we should all thank those around us (especially family members) each and every day. 
Thanks for your wisdom, as always, Brad. And congrats on a job well done with your new book! 
Here is his essay entitled, Windows and Mirrors. 
But those who exalt themselves will be humbled,
and those who humble themselves will be exalted.
Matthew 23:12
Conventional wisdom would tell you to "blow your own horn" to get recognized and advance. However, this negates the importance of surrounding yourself with great people who will be the true drivers of your career. Great people want to work for someone who gives them the credit, rather than keeping the honors and minimizing their contribution.
Jim Collins, in his analysis of the highest levels of leadership in "Good to Great" writes: The leaders who sit in the most powerful seats in our organization practice the window and the mirror.
They point out the window to people and factors other than themselves to give credit for success. When confronted with failures, they look in the mirror and say, "I am responsible."
Leaders who are "windows" are secure in their leadership, and don't need to draw attention to their performance. They happily share credit and highlight their people, as they know this credit sharing has two major benefits—it motivates the team to achieve even higher performance and it builds loyalty for the leader. These benefits far outweigh a brief time in the spotlight for the boastful alternative.
These leaders are also "mirrors" who accept responsibility for failures. They earn their pay and title by shielding their teams from corporate wrath. This instills further loyalty as people realize "success has many parents, but failure is an orphan."
The focus of the team becomes course correction rather than blame shifting. The team also learns to take risks, knowing the leader "has their back" if the risk doesn't succeed. Most companies say they want to be innovative and take risks, but, to do so successfully, they need leaders who accept rather than punish failure.
The best leaders extensively recognize the contributions of their people at all levels. This reinforces positive behaviors and creates strong loyalty.
Shortly after Meg Crofton was named as the President of Walt Disney World, she walked Epcot with me.
One of the frontline Cast Members approached us and I introduced her to Meg. She said, "I was at the movies the other day and thought about Brad." I asked her if it was because of my resemblance to Brad Pitt, and she politely answered, "Not exactly." She went on to say that a few months before, I had witnessed her giving great Guest service, thanked her and gave her a note from me with two movie ticket vouchers, in recognition of her work. "No one ever did anything like that for me before," she said, "and I will always remember it."
For me, it had not seemed like a big deal but, for her, taking the time to recognize her and giving her a small tangible token of appreciation was a "magical memory." Oftentimes, just a simple "thank you," "great job," or "I'm proud of you" goes a long way.
Action Points
• Think about how often you "blow your own horn" and how often you give others the credit.
• When things go right, do you take the credit or give credit to the team?
• Conversely, when things go wrong, whom do you blame?
• How often do you take the time to recognize the people who work for you, verbally and with small gifts?
Payoff
Stronger teams, greater loyalty, a willingness to take risks, higher performance.