My dear friend, Marilyn Moore, was one of the first people to post on Five More Minutes With. Thank you, dear Marilyn, for sharing your memories about your dear son, Linden, who died at the tender age of 51. . .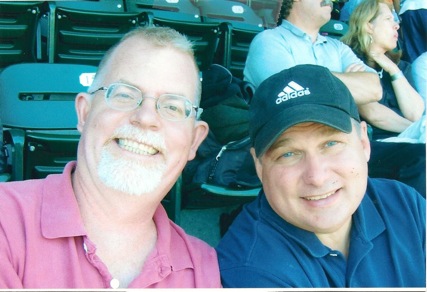 Linden (left) and his buddy Marvin at a Cubs game.
Linden was supposed to be a red-headed girl named Elizabeth Ellen. I got the red hair right, but he was definitely not a girl. With a crew cut, thick glasses and a grin on his face, he was a boy you gave a big hug to when no one was looking. His bad eyesight would keep him from pursuing his childhood dream of going to West Point and becoming a real-life war strategist.
My little red-headed kid was indefatigable. He was a Cubs fan and kept pencil-written spiral bound statistics notebooks of every Cubs game he attended or listened to. I doubt he ever missed one. Later he used that attention to detail to become a top-notch auditor for the state of Illinois. His hobby was war-gaming.
Linden played LaCrosse. He coached his girl's softball teams. He umpired local baseball games, sometimes being escorted off the field if his calls were unpopular. He taught Sunday School to toddlers.
Linden studied law online and passed the California bar, hoping to forge a new career after retiring from his current job.
Then the phone call came. Linden's wife Deborah told me Linden had died in his sleep. He was diabetic. That may have been a factor. He was 51.
Funerals have their good parts. Going out for dinner with Linden's family, and the families of his sister and brother, brought lots of smiles and laughs. The next day was the service.
I was raised by Mennonites. I am stoic.  I do not cry at funerals.
Linden's girls, Rebekah and Rachel, along with their cousins, Bonnie and Lillian had made a photo display of Linden that they propped on an easel at the front of the church. To pass the time before the service started, I went up to look it over. I think it was the picture of Linden and the girls walking down the beach – away from the camera. They were holding hands, one on each side of Linden. I started to cry. Embarrassed, I returned to my seat. I don't remember much of the ceremony. I sobbed all the way through.
There were many things that were left unsaid. I wish I had called Linden more often. I could have praised him more. I could have encouraged him more. I could have listened longer. I'm glad I was able to cry.