Here is the moving story of my friend and fellow food-writing colleague, Alicia Arter's, first memory of her adoptive father. It was first published on the Five More Minutes With website in March 2010.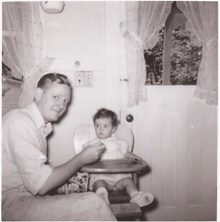 Alicia's very first dinner with Al
Dear Dad,
Your work here is done now and in moments it'll be no more bills to pay and no more house repairs for you. You won't have to wonder if your investments will last you through your retirement anymore, or if you'll end up in a nursing home – it's clearly yes and no, in that order.
What a relief! And if anyone's going through the Pearly Gates, it'll be you.
In our family you always said to be nice to you  while when you were still kickin' rather then send flowers to your funeral when it's too late. We lived like that, and it sure makes for an easier time spent on earth.
While you know you are the best Dad in the world (married to the greatest Mom) there's a hidden truth I need to tell you about that. It's kind of the flip side of that.
Going back a few years, remember how you took me in when I was a stranger, a bewildered and frightened 10-month-old girl? You gave me a new life full of learning, caring and laughing. You taught me how to say "Daddy" and how to tie my shoes.
My first father abandoned me, something I can only partly fathom. So frightened was he of fatherhood that he left the country and stayed away for years. When he came back he never even looked me up. I know he thought about me because later, when he married, he told his wife and daughter that he may have left a baby daughter in the lurch years ago. When I was a kid I understood that better, but now that I'm a parent I don't understand it anymore. It's a cold thing to do.
Dad, it left a hole, a sorrow, in my bewildered little heart. And you understood perfectly because 30 years before your dad abandoned you too. And you know, I think that between the two of us we patched up the hole, and started our days together with joy and optimism. You taught me to walk, to do arithmetic, to fish and to make toys in your woodshop. And to try to become strong and gentle, like you.
I know you always wondered how I felt about being adopted, and if I ever found my first parents would I abandon you. Never. You are my dad and nothing will ever make a speck of difference in the love between you and me. You saved a little girl and she grew to be your daughter forever. And even though you're through with the earth now, we'll talk and laugh every day. And I suppose you noticed that your grandson is growing up to be just like you. Through him you live on.