One of my very best friends in the world, Martha Marino, describes her Scandinavian grandmother, who definitely new the in's and out's of hospitality and died on her own terms.
This post was first published in April 2010.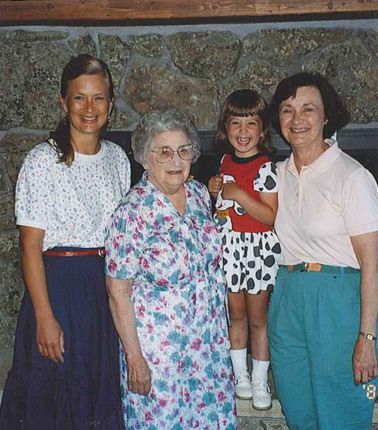 Three generations proudly surround Grandma
My Danish grandmother lived all her life in Nebraska, and since I grew up far away in California, our family would visit just twice a year.
When we did, Grandma bustled about with genuine, but soft-spoken hospitality. Meals with the extended family were fun and abundant with vegetables she had "put up" from her garden and fruit trees.
Grandma had a special fondness for her many grandchildren: on the third story of their farmhouse she had built low shelves stocked with a Santa's-workshop array of toys, dolls, games, dress-up clothes, blocks, puzzles, stuffed animals, blocks.
It now seems bizarre but she even had a toilet in the corner of the room, out in the open, so little ones could "go" without interrupting their play.
She was a gentle soul, a quiet leader, with high expectations of herself (she was born in 1900 and went to college, rare at that time for a woman), her four daughters, and all of us grandchildren.
When she was nearing the end of her life in her 90's, still healthy in her mind and body, I wrote a letter to her, asking what legacy she wanted me, as her oldest grandchild, to carry on in her memory.
When she died, I was at a loss because I had never heard back from her.
She even died with hospitality. My mom was with her and Grandma said to her, "Janet, it's my time. Please call the pastor, take the cookies out of the freezer for him, and make some coffee."
After he had said his words and had his dessert, she was gone. Hospitality even at the end.
When my mom and her sisters emptied out her apartment, they found my letter to her. She clearly had kept it, intending to respond at some point, since she always answered correspondence. My mom sent it back to me and I still have it.
If I had had five more minutes with Grandma, I would have asked her about that legacy. Or perhaps if she had had five more minutes, she would have written to me.
A few years ago when I visited our relatives in Denmark, I heard them use the word hygge frequently, especially when visiting someone's home. It was the highest compliment.
The word translates most closely to "cozy" but not in a cutsie way. It means warmth, intimacy, cheerfulness, good simple food, relaxation, enjoyable conversation, and a heartfelt sense of togetherness.
I had experienced Grandma as the epitome of hospitality, and I think the legacy she would be happy for me to carry on would be from her Danish roots, hygge.