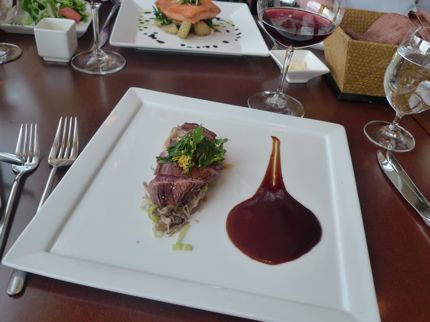 About 10 years ago I started writing a novel called "The Last Supper Club" whose protagonist was a female celebrity chef who made super-extravagant last suppers for people who knew they were terminally ill. The novel (like all of my fiction writing, at least so far) didn't go anywhere; in fact, I never even finished the book.
Fast-forward to 2007, when a lovely four-color, coffee-table nonfiction book entitled, "My Last Supper: 50 Great Chefs and Their Final Meals/Portraits, Interviews, and Recipes" was published.
I thought about that book, and portions of my own short-lived novel that were semi-autobiographical, as I hatched the idea for Five More Minutes With.
And just today (remember there are no coincidences!) I ran across a link to Celebrity Chefs' Last Suppers while searching ProChef SmartBrief, a wonderful e-newsletter that comes into my "other" inbox (for my food-and-wine-writing life).
Here is the link to the Last Suppers Photo Gallery courtesy of Time magazine. I especially like the shot of Italian chef Lydia Bastianich in a "hat" made entirely of pasta.
What would you have for your last supper? Would it be something fancy and multi-course, as many of the chefs requested?
Or something simple and homey, perhaps a comfort food(s) from childhood?
Me? I'd keep it simple and homey with a sliced turkey-breast sandwich on whole-wheat bread with real mayonnaise, lettuce, and tomato; a Honey Crisp apple, and iced tea (real, black iced tea–none of that frou-frou passion-fruit stuff!) with Sweet 'n' Low.