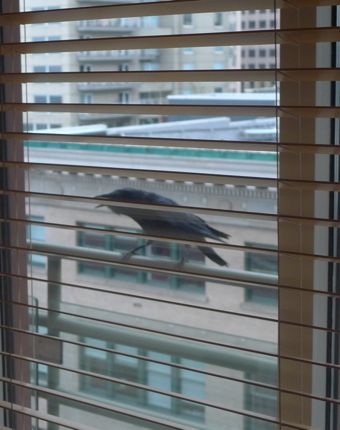 By now, many of you who read my writing here, or on my other Web site, Northwest Wining and Dining, know that Spencer and I live in a downtown condo a salmon toss from Seattle's beloved Pike Place Market.
It's a great place to live, but since our beloved feline companion, Bo-Bo, went to kitty heaven about five years ago, things have been lean on the companion-animal front since we've never gotten another cat or dog.
So late last week, when a rather ratty looking crow came a callin' (literally–she's VERY loud and caws at the drop of a hat!) along the iron railing that forms the border for our balcony, both SJ and I were intrigued by this unusual show of urban wildlife right outside our living-room and bedroom windows.
Over the Labor Day weekend, we were awakened by Mrs. Crow voicing concerns over an intruder or interloper. These are the best photos I could get of our avian visitor. . .once I drew the shades, she didn't come back, or stay long enough, for the camera lens to capture her antics.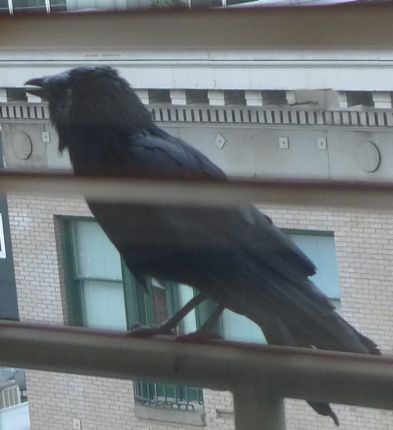 She's been back on and off this week, but doesn't stay long. We are now wondering if her nest is elsewhere and perhaps she uses this bird's-eye perch from our balcony to watch out over her brood.
If and when we can ever figure out where she is roosting, we may have to install our second remote camera, not unlike the Puget Sound Cam on my other Web site that records the activity along Elliott Bay from dawn until dusk.
Of course, we'd call this new one the "Puget Crow Cam" and position it within the Five More Minutes site.
The point of this post (bet you were beginning to wonder!) is that there can be magic in everything in life if you look at it in the proper way. . .even just the appearance of a raucous crow/raven outside your window.
Have you seen a crow or raven in your life today?