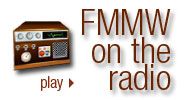 It's always exciting to do publicity  such as radio and television interviews, as well as public appearances for my books in my "other" life of food-and-wine writing.
But nothing was as exciting as my first radio interview on "Chat With Women" for Five More Minutes With.
Thanks to Chris Prouty, my brilliant Web designer, you can now listen to the interview directly from the FMMW Web site.
Have a listen and learn more about the inspiration for FMMW!