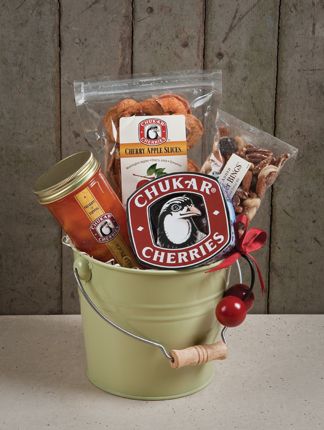 Today marks the arrival of our second exciting contest on Five More Minutes With—a Father's Day contest to find the most inspiring story about Dad!
This year, Father's Day falls on Sunday, June 20. And what better way to salute Dad and commemorate Father's Day than to share his story with the Five More Minutes With community and other interested readers?
Those remembrances shared between today and June 19, 2010, will automatically be entered to win a Chukar Cherry Co. Heart of Seattle Basket shipped to your home with enough treats to share with family and friends while you reminisce about dear old Dad.
Chukar products have regularly been featured as the "Snack of the Day" on the "Rachel Ray Show," and recently received a rave review in The Nibble, the Magazine About Specialty Foods.
The Heart of Seattle Basket offers four fabulous Chukar creations—a Chocolate Cherry Quartet Box, a jar of Vanilla Peach Preserves, Cherry Apple Slices, and Nuts over Bing Energy Mix—all packaged and ready to roll in a handy metal bucket adorned with a jaunty cluster of plastic cherries.
Many thanks to the good folks at Chukar for providing such an exciting and desirable prize for our Father's Day contest.
Submittal Guidelines:
As always on Five More Minutes With, you are encouraged to explore the site for inspiration, then submit your own story to share.
Answer the question: What would you say if you had Five More Minutes With. . .Dad?
Stories can be of any length. But remember. . .you have just five minutes!
So I suggest keeping your story to anywhere from two to three sentences and up to 250-300 words (one to one-and-one-half double-spaced typed pages).
Photos are most welcome, and will increase your chances of having your story published and winning the prize.
Now put on your thinking caps, pull out your pens or computers, and start writing a tribute to dear old Dad.
Good luck and happy writing  to all!